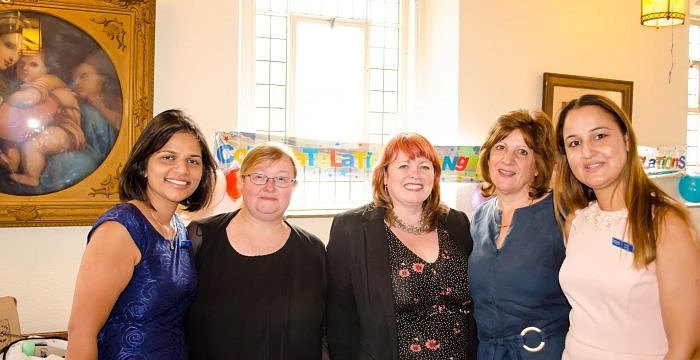 15th June 2018
Richmond care provider celebrates 1st anniversary with a big party!
Local in-home care provider, Caremark (Richmond-upon-Thames) hosted a special party to celebrate their first anniversary of their business and invited along clients and staff to share in the occasion.
Since launching in May last year, Caremark (Richmond) has gone from strength to strength and has acquired a solid reputation within the local community as a reliable and compassionate care provider, with staff who truly love their jobs.
The growing business is owned and run by two enterprising women who are also long-time personal friends – Swati Bagwe and Shipra Mehta. 
Also supporting the event were members of Caremark's head office management, including the Managing Director, Anne O'Rourke. 
Commenting on the day, Anne said: "I had the great pleasure of attending Caremark (Richmond)'s first birthday party and what a wonderful event it was!
"It was such an honour to celebrate with Swati and Shipra and have exposure to the great business that they've built up since they took on their first customer in May 2017.
"The event in Saint Mark's Church in Teddington was totally focused around clients and it was so lovely to meet many of them and to see them happily engaging and having such fun with each other."
A sumptuous buffet and special birthday cake was also provided for all the guests to enjoy.
There was even a 'rap routine' specially written for the occasion by one of (Richmond)'s clients which got everyone clapping along!
There were votes of thanks from happy clients too with comments passed to Swati & Shipra's Regional Development Manager, Bev Regan who reported: "A delightful lady you provide care for approached us at the end of the party and she could not sing your praises high enough; her words clearly could not describe how well she thought of each of you and the amazing team you have created around you."
The hard-working and dedicated pair were also presented with a bouquet of flowers by Anne O'Rourke. 
"A truly inspiring event, focused on the clients" said Anne.  "This is what it is really all about and a great opportunity to see professionalism, integrity and compassion in abundance!"
BACK TO NEWS