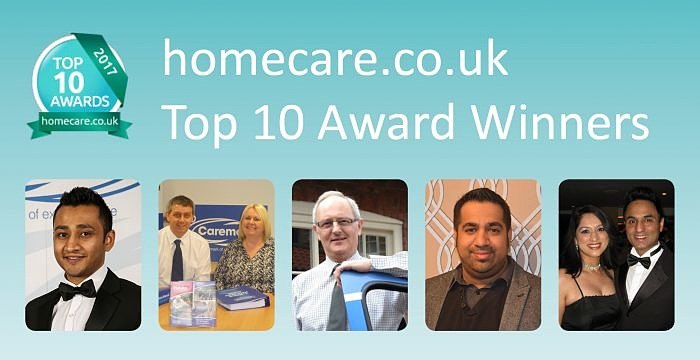 24th May 2017
Five franchisees win homecare.co.uk Top 10 Care Awards
Five of our franchisees from across the UK have been awarded Top 10 Home Care Provider Awards 2017 from homecare.co.uk.
Caremark (Hillingdon), (Redcar & Cleveland), (Plymouth), (Coventry) and (Slough & South Bucks) were all placed within the top 10 care provider lists in their regions.
Speaking about her and her husband Ranjit's first ever award from homecare.co.uk, Suki Dhillon of
Caremark (Slough & South Bucks)
said, "We are so thrilled in achieving this award, our Care Workers work tirelessly supporting their clients day in day out and this is reflected in the amazing stories our clients have posted as reviews on homecare.co.uk.
"We have truly amazing, dedicated, loyal and committed carers who wholeheartedly deserve this Award and we could not have accomplished this without them".
Charles Folkes of
Caremark (Redcar & Cleveland)
added, "It is really rewarding to receive such positive feedback from our customers, especially in an environment where the media tends to focus mainly on the bad news stories in social care.
"I know how hard our dedicated team of Care Workers work to deliver high quality person-centred support and this will go some way to recognising their efforts and ensuring they know that they are highly valued."
Our Top 10 Care Awards track record
Our franchisees from Coventry, Plymouth, and Redcar & Cleveland are all two-time winners of homecare.co.uk Top 10 Care awards, while Abhay Shah and the team at
Caremark (Hillingdon)
have won for the last three years in a row.
BACK TO NEWS