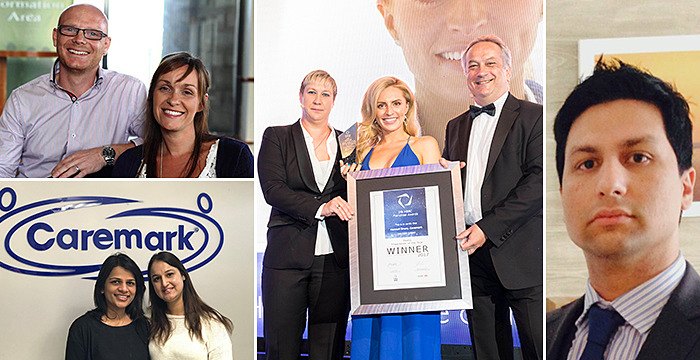 1st February 2018
Young guns in franchising
With the ongoing popularity of the television programme The Apprentice, many more young professionals now dream of becoming their own boss and having the chance to launch their own successful business.
Young businessman Ahsan Sajjad, (32) bought Caremark's territory of St. Albans & Dacorum in Hertfordshire in early 2017 and sees a great future ahead of himself, building a business that he is excited about while knowing he is, at the same time, making a valuable contribution to his local community.
The options for owning and running a successful business in the early part of your professional life are increasing and never more so than in the field of franchising.  As franchising is a viable route for younger entrepreneurs to pursue, carrying less risk than a stand-alone start-up, the word is getting out, albeit more slowly than one would hope. 
The British Franchise Association (bfa), the industry's official self-regulatory body is keen to promote franchising to the younger audience and encourage more success-hungry professionals to explore the vast smorgasbord of franchises available.
Young franchisees may not have the wisdom and experience of their older counterparts but they bring with them energy, vision and a drive to succeed, all vital components for building a business.  Wisdom is acquired with experience, but to get there, first you need passion and grit to get started and keep going, if you are going to get anywhere and even have a sniff of success.
Hannah Drury (25) and one of the youngest franchisees in the Caremark network owns and runs a successful business in Sutton delivering care and support to vulnerable clients across the Borough. 
Hannah's drive, energy and positivity saw her find her way through considerable personal tragedy in 2015, take over the business later that year and with no previous business experience, save her determination and vision, build it to award winning levels.  In 2016 Hannah, the Operations Director for Sutton, together with her team, were awarded Caremark's London regional award for best franchise in their territory.  She later took the top industry award in franchising: the bfa HSBC Franchisee of the Year 2017, then the Startups UK Franchisee of the Year 2017 award and now in this last month has started the new year with a top national award from Caremark – the Achievement Award for 2017.
Her success is a great example of what possibilities lie open for young and ambitious professionals, a message which is still relatively unknown within the 25-30 somethings and one definitely not known in the 18 – 21 age group, just when younger people are looking at career options.
However, that said, Caremark now has a number of younger, dynamic franchisees in its network with four of them featured in this year's haul of Caremark's national annual award winners, which saw a mix of younger men and women snatching the prizes from some of the older, more experienced business owners.
Franchising can no longer be regarded as a male domain either.  Almost 50% of the Caremark network is female with top award winners now represented amongst them, including Janis Anderson (Aylesbury & Wycombe) who took the top crown in franchising in 2013 as the bfa HSBC Franchisee of the Year. 
Women, whether single or with partners and children are encouraged to consider franchising as a viable career and business option.  Building a successful franchise does not preclude having a balanced family life either, which perhaps would not be so easy to achieve with an all-consuming role in paid employment.
With more enquiries coming into Caremark's franchise recruitment team from the younger set than in previous years, and another 30 something about to seal the deal and buy a Caremark franchise, it looks as if the franchising message is beginning to filter through the noise of paid employment opportunities. 
Certainly, there is nothing as satisfying as owning your own business and knowing that you are the captain of your ship and master of your destiny.
Waking up each morning feeling excited and enthusiastic at the prospect of another day in the office can only be a good thing, more particularly when you are still at the beginning of your professional life. 
After all, you only have one life, so you need to live it well.
BACK TO NEWS