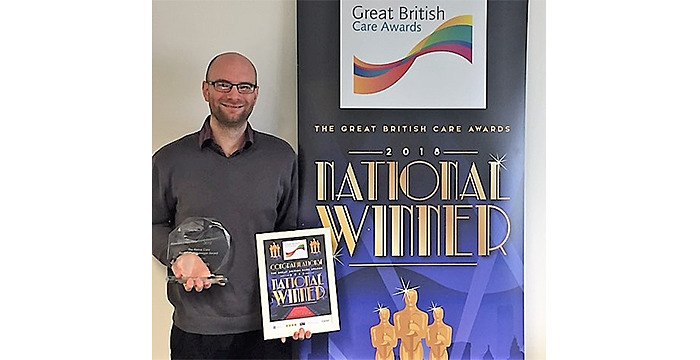 19th March 2018
Young Caremark franchise clinches top care accolade at Great British Care Awards
The Caremark team at Tunbridge Wells are celebrating their second top industry award in less than six months.  For a relatively young business, this is good going.
On Friday 16
th
March, Caremark (Tunbridge Wells, Tonbridge & Malling) were among 900 of the very best in social care attending a glittering awards ceremony at Birmingham's ICC.
The Great British Care Awards gala evening, hosted by Jeremy Vine spotlighted and celebrated the successes of dedicated people within the care sector.
Simon Rowland, registered Care Manager for Caremark in Tunbridge Wells, won 'Home Care Registered Manager Award' for his outstanding service, leadership and his contribution to the culture and team values in the business.
"Simon has created an impressive team and culture in just 18 months and his service has been commended by the CQC.  This is due largely to Simon's sincere and caring personal manner in both clients and staff.  He leads by example and is an outstanding role model to all in the care industry,"
said the judges.
Simon's career has always been firmly rooted in the care sector.  His compassion for others and commitment to changing lives led him to Caremark.  He joined the Tunbridge Wells based company as Care Manager in 2016 and has worked tirelessly with the franchisee and managing director, Martin Steyn to develop and grow a first-class local service, serving their community's needs.
Reflecting on this latest award, Simon said:
"To have been awarded national Care Manager 2018 is an unbelievable accolade that I am humbled to have been nominated for, let alone win.  Good care does exist and hopefully this award proves that our team is as good as they come, as without their support I would not have won.  I would like to thank everyone associated with Caremark for giving me the tools and the belief to achieve what we have and I am hoping this is actually just the start for both myself and our team."
Naturally business owner Martin Steyn is thrilled with this award and added:
"It's a real honour to work with someone as committed and considerate as Simon – he truly is a pleasure to work with.  In just two short years he has made such a positive impact on our team of office staff, carers and the clients themselves.  Simon deserves this national recognition for his efforts and for the incredible work he does for the community.  He is such an integral part of the Caremark team and I can't wait to see what the remainder of 2018 brings for him. Congratulations Simon!"
Anne O'Rourke, Managing Director of Caremark in the UK, said the entire company was delighted for Martin and his increasingly successful franchise.  She praised Simon for his dedication to the business and its clients and his genuine passion for care:
"Simon is an extraordinary member of an extraordinary team.  We couldn't be prouder of the work that the Tunbridge Wells office does, every single day.  Simon is an inspirational leader to his team of care workers and through his commitment, he enables Martin, as business owner, to forge ahead in the market."
BACK TO NEWS