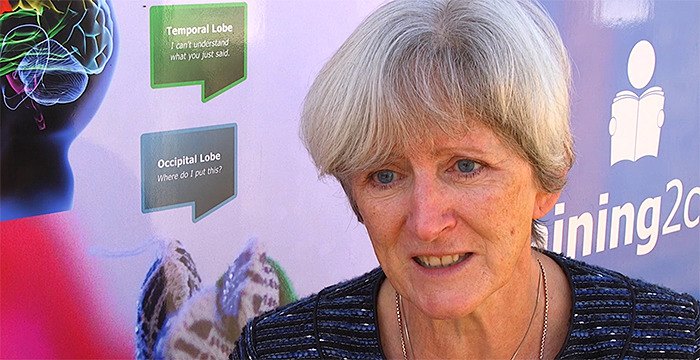 30th October 2019
Virtual dementia tour paves the way for better dementia care
Dementia affects approximately 850,000 people in the UK. As a leading care organisation, we want to ensure that our care staff have the appropriate skills and understanding of how this condition impacts people's lives to provide high quality, compassionate care to those affected by dementia.
Caremark is working with specialist care training company Training2Care to provide virtual dementia training to its care workers. By enabling our staff to experience what dementia may look and feel like, the training will help them better support those living with dementia. Called the Virtual Dementia Tour, this innovative training delivered in a unique training vehicle sponsored by Caremark is an immersive sensory experience comparable to dementia.
Attending the Tour during a dementia awareness day held at Caremark (Pulborough) in September, Patricia Arculus, West Sussex County Councillor (pictured), said:
"It was very disorientating, you felt extremely vulnerable. You couldn't see properly; you couldn't hear properly. It was quite frightening to think that that's what someone would be living with all the time. We want the person with dementia to actually get the best quality of life that they can, and I think this really indicated how we can do that."
The Tour is now being rolled out to the Caremark network as part of care staff training to improve dementia awareness and standards of dementia care across the UK.
Caremark aims to improve dementia care not only by improving care staff's understanding of how dementia impacts their clients through sensory training, but also by helping those living with dementia socialise and remain part of their community. This is the goal of PatchCare®, Caremark's new and innovative way of delivering care at home to reduce loneliness and social isolation and improve people's well-being and create a valuable sense of purpose.
PatchCare® has already been recognised for the invaluable benefits it offers. Piloted at Caremark (Mid Sussex & Crawley) and now being rolled out to other Caremark offices, this new model contributed towards the office's 'Outstanding' rating following an inspection with the Care Quality Commission (CQC). It also featured within the
CQC's annual State of Care report 2018-2019
as a key model of innovative practice across England.
If you are passionate about improving the standards of dementia care and have the drive to build your own Caremark home care business in your local community, contact our franchise recruitment team on
01903 266 392
or fill in our
contact form
.
BACK TO NEWS