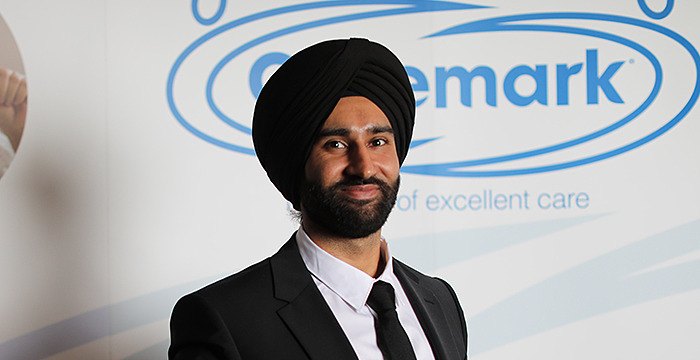 28th August 2019
The rising franchisee star
Raspinder launched his Caremark franchise in his home-town of Gravesend in February 2018. His franchise is already thriving, with care worker retention and community outreach at the core of his business.
Before launching his franchise, Raspinder earnt a degree in Management with Accounting & Finance from Royal Holloway, before embarking on a career as a Financial Analyst in the heart of London. Before long, Raspinder came to realise that, instead of feeling fulfilled by his career path, he was essentially 'ticking boxes'.
"I took a step back and reassessed my priorities. I've always been entrepreneurially minded and take great pride in supporting others – I'm an integral member of the Sikh community and had been working with my local temple on a voluntary basis. As a member of a large, extended family, I also know first-hand how important it is to keep families at home, together, where possible. This opened my eyes to the support I could offer the vulnerable residents in the area – the way I saw it, launching a care business would combine my passion for supporting others with my determination to succeed."
Raspinder considered the options available to him and, with the tried-and-tested model of an in-home care franchise, he opted to invest in a franchise which most suited his values.
"A Caremark franchise really appealed to me. Obviously, the fact that the brand has a level of recognition and is respected within the care community resonated with me, but I was more intrigued by the level of support available. My will to succeed and a passion for community wasn't enough to guarantee business performance – I would need the backing of industry experts and professionals too. I spent time doing my due diligence, researching other providers in the area and speaking with existing franchisees. I was instantly impressed by the collaborative nature of the network – everyone was accommodating and more than happy to exchange best practice." 
Raspinder's initial business plan incorporated a projected rate of growth, in terms of client hours and care worker retention. Within nine months, he increased client hours from zero to 500 per week. In addition, and in line with his original estimations, care workers have consistently joined the team. Despite this rapid growth, it is the quick rate at which his Caremark franchise was able to support charitable causes which continues to drive Raspinder to achieve.
"My priority as a business owner was to put my standing in the community to good use, by regularly contributing to local and national charities. Within months of launching the business, we had submitted our first financial grant. That gave me an immense sense of satisfaction and continues to do so, one-year in. Our latest charity initiative saw us raising funds for Dementia UK, by hosting a coffee morning, and hand-delivering freshly-baked scones to our house-bound clients. Whilst this, obviously, benefits those who certainly deserve the support, it also raises the profile of the business and increases credibility of the brand."
BACK TO NEWS