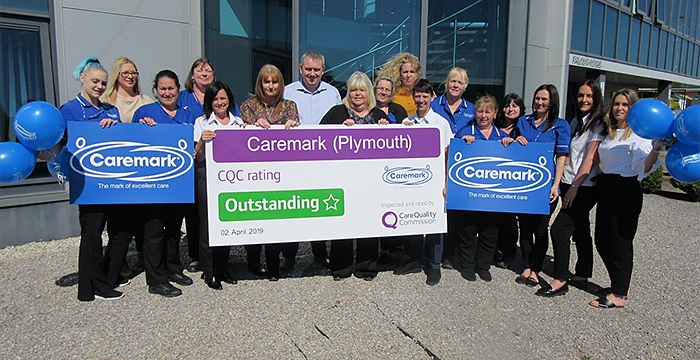 15th April 2019
OUTSTANDING rating for Caremark (Plymouth)
The team at Caremark (Plymouth) are celebrating after receiving an OUTSTANDING rating from the CQC.
Former engineer Graham Livingston launched Caremark (Plymouth) with his wife, Alison, a qualified Occupational Therapist, in 2012. Since then, they and members of their team have received several awards for the exceptional care they deliver and the technology innovations they have implemented.
The office has also been placed among the
Top 20 Home Care Providers in the South West of England
by a public vote in 2018.
Graham and Alison Livingston have built a fantastic team who are passionate about delivering exceptional care and support to their clients. They truly embody the Caremark brand and the values we stand for: compassion, professionalism and integrity.
Care workers were commended for their exceptional work. In particular, the inspector acknowledged two specific cases of exceptional support.
The first instance saw one care worker helping a client plan a funeral for a loved one, when there was no one else for the client to turn to. The second example was when a care worker fostered a client's pet until they were well enough to resume caring for it on their own.
Commenting on the 'Outstanding' rating, Graham said: "This result is a real testament to their dedication to providing a great quality of care to vulnerable people living in the area. I'd particularly like to thank my care manager, Karen, for all that she has done to continually go above and beyond to ensure our team feel supported. Nothing is ever too much trouble for her and her dedication to our clients is so admirable. I'm so pleased to celebrate with her, the office staff and our care workers.
"It's a wonderful feeling to come to work every day and be surrounded by people who are so committed to providing outstanding care in the community. Our care workers do incredible things, every day, so they truly deserve the recognition for their continued dedication to providing quality care. Improving the lives of our clients each day brings a huge sense of wellbeing. I think it's important to take a step back once in a while to recognise our achievements and this rating from CQC is one of those chances."
BACK TO NEWS