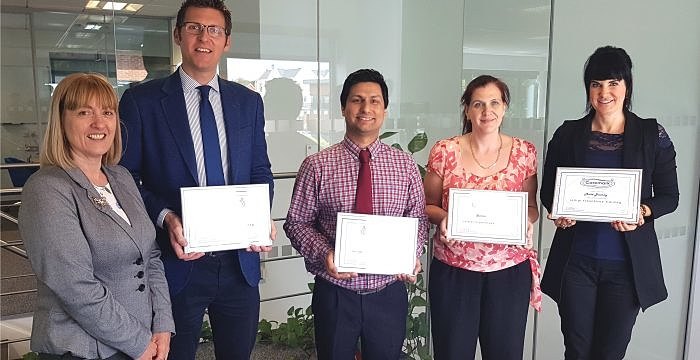 25th July 2017
New franchisees for Brighton, Cheltenham and St Albans
Caremark welcomed four new franchisees to its network this month, who will be opening offices in Brighton & Hove, Cheltenham & Tewkesbury and St Albans & Dacorum.
Michael Folkes, Anita Bramley, Susannah Duek and Ahsan Sajjad will be opening the doors of their brand new offices throughout southern England. All four come from very different backgrounds, from sales and management roles in the Chemical and Property industries to careers in Social Care and Occupational Therapy.  But they all have one thing in common: the desire to make a real difference to people's lives coupled with a dream of business ownership.
Lynda Godding, Caremark's National Training Manager, was only too proud of the newest team members: "It's always such a pleasure to work with new franchisees and our latest group are no exception. Each one of them worked so hard to achieve outstanding results in their final assessments and I've no doubt they'll apply the same dedication as they move forwards."
Caremark's reputation as one of the UK's leading home-care providers sees franchisees continue to thrive as they passionately support the elderly and the vulnerable in their local communities. New recruit, Michael, feels strongly about the challenges faced by those in need of quality care in Cheltenham and Tewkesbury. For him, the rewards are as much about personal pride and satisfaction as they are about the financials: "I'm thrilled to be starting a new journey in such a rewarding sector and I'm really looking forward to becoming fully immersed in my community, working hard to serve their needs. The opportunity to build a business that genuinely makes a difference is very special."
Caremark franchisees are living proof that when strong business ambition is coupled with a genuine desire to help others, amazing things happens. Whether through personal experience or a simple desire to make a difference, more and more people are turning to the home-care sector for the chance to build a profitable and equally rewarding future. Perhaps it's no surprise then that September's franchisee training course is already filling up fast!
BACK TO NEWS