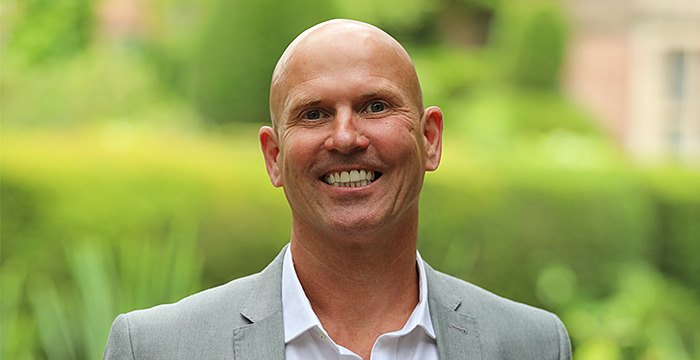 24th June 2019
Making the change to care
The home care industry attracts all sorts of people, each with their own reason for choosing to buy a franchise in this growing sector and Caremark's network of enterprising franchisees is no different.  
So what motivates people to leave a successful career path and set off in another professional direction entirely? For some this may be down to personal drivers such as direct experience of the sector they are now pursuing. While perhaps for others, it is simply the desire to move into an industry which resonates with them.
Robert Johnstone, experienced change manager and former retail operations director, sits somewhere in the middle of these two groups. With more than twenty years of expertise in launching new stores and turning around under-performing retail operations in the UK and Russia, Robert has an impressive track record of success. Yet, his desire to turn his attention and talents to an industry which would give him the commercial challenge he was seeking, along with satisfying personal and financial rewards was the reason he decided to change direction. Achieving commercial success was no longer enough.
Although many of Caremark's franchisees come into the business with no exposure to the care sector whatsoever, for Robert this was not the case.  He has family and friends who are already working in the industry and his exposure to this growing sector showed him another side to business and an opportunity yet to be explored. 
With his interest piqued, he began to research UK home care providers and the rest, as they say, is history.
Caremark (Cambridge & South Cambridgeshire) was awarded their CQC registration in September 2018. Robert, along with his wife, Tracey, and Registered Care Manager, Laura Ansell, are now working to build a dedicated and compassionate team.
"We're looking to build a profitable business and a legacy for our future, but our number one priority is working with the best possible team that we can – it's something that we just won't compromise on. We're looking to recruit only the most professional and compassionate team and are more than prepared to bring care workers in at a rate that reflects our high standards. I've taken a lot, both personally and professionally, from supporting others in their time of need – it's worthwhile and fulfilling."
The hard-working and motivated couple are keen to establish a community-conscious and compliant business, which will also provide financial freedom for the long-term.
"My work-life balance has improved significantly in comparison to my schedule when working for large, international organisations. I was constantly on call and travelling most of the time, meaning I would often miss the important things back at home. Now, I'm able to manage my schedule in a way that allows me to take time away from the office when I need to. That's one of the best things about being a business owner – you're essentially your own boss."
Before launching his franchise with Caremark, Robert took time to research other care providers. His findings led him to conclude that, in terms of franchisee support and standing in the care industry, Caremark was the best fit for him and Tracey.
"I stand by my decision that Caremark is the best out there and would say that to anyone considering the opportunity. My advice for those considering investing in a Caremark franchise would be to do your research and formulate a detailed and comprehensive business plan – and then stick to it!
"You'll never know what awaits you until you actually go ahead and give it a go but, for the most part, it's been the best thing I ever did."
He is certainly a man on a mission. As a high achiever, Robert is comfortable with pressing on with the job and getting results, only this time he is doing it for himself which is far more gratifying.
BACK TO NEWS