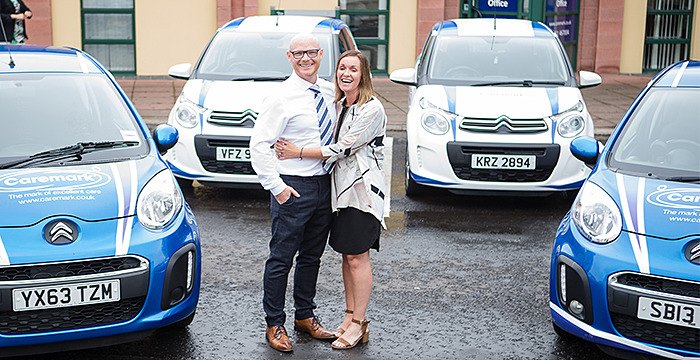 25th October 2019
Franchising as a family
Emily and Richard Magrath launched their Caremark (North Down, Ards & Belfast) franchise in 2013. Six years later, they have built a successful business and have achieved Northern Ireland's equivalent of an 'Outstanding' Care Quality Commission (CQC) rating, all while raising their four children.
Why did you choose to open a franchise in the home care sector?Emily:
We decided to open the franchise when I was on maternity leave with our third child. Richard has always run his own business, ever since school. So, we decided to open a business together to gain a better work-life balance.
The care sector suits us as individuals as it aligns with our passion for community. Before Caremark, I was in senior management for cancer charities for 11 years. We're also very involved with our local church.
We were sure we had found the right sector, so we did our homework, attended a franchise show and set up some meetings. We decided to go with Caremark because its ethos matches our own vision and values – we are all about being part of the community and helping others.
How do you strike the right balance between work and family life? Richard:
We have four children from seven months to 14 years old, so home life is busy! As parents, we found ourselves juggling our responsibilities at first. Putting strong structures in place within our business – from hiring a great team to pinning down our strategy – helped us on the path to success.
One of the benefits of owning our own business is that, when the kids go to bed, either one of us can head over to the office in the evening. Our home is close to our business, church and schools, so we've cut out the commute.
Caremark provides ongoing support and was instrumental in guiding us through those early days. We also have a strong network of over 120 Caremark franchisees that has been invaluable for sharing advice and experiences.
How do you divide the work? Richard:
We are very much a team and share equal responsibility. We take on different roles and have a lot of respect for each other. Emily is very operational and key to implementing positive changes within our business to enable it to grow. I lead our strategy and handle our finances. Our backgrounds have been very useful as both of us bring strong managerial experience to the table.
What has your business journey been like, what successes and challenges have there been along the way? Emily:
The first three years had their challenges! With young children and a busy lifestyle, it took time, drive and motivation to launch and grow our business.
We have enjoyed a lot of success and won many of Caremark's internal awards, including Franchisee of the Year 2019. We've also consistently performed well in our RQIA inspections, receiving reports equivalent to a CQC 'Outstanding' rating.
However, the biggest success, without a doubt, is that we have been able to build an incredible team around us. Our staff truly understand Caremark's ethos and values, and without them the business would not be where it is today.
What are your plans for the future?Richard:
The next step in our journey is to continue to expand our footprint in Northern Ireland at a sustainable growth rate, ensuring that we always uphold the highest standards of care.
We're delighted to be at this point and to know how many people we have helped. Even with a busy family, we've proved that we can make a huge difference to people's lives. It's a wonderful feeling!
BACK TO NEWS