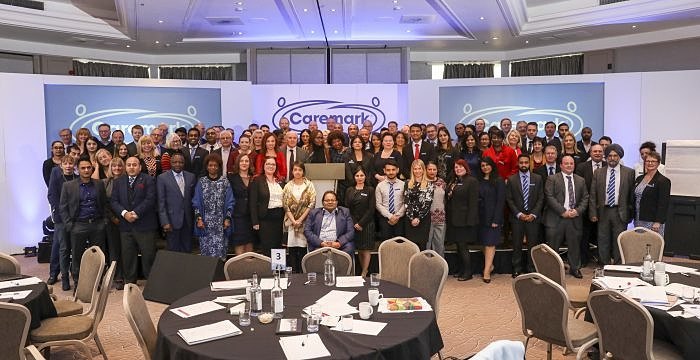 3rd February 2017
Franchise network comes together for Caremark Conference 2017
Delegates from across the franchise network came together for the Caremark Conference 2017, resulting in the largest conference ever, with more than 120 people from across the UK, Malta and Ireland gathering to listen to inspirational speakers.
Following the conference theme of The Belief Factor, acclaimed Life Coach Sue Revell spoke on how to find your flow in your business. Later in the day, Deb Holland, Head of Inspection at the Care Quality Commission, revealed How to be Outstanding, before Colin Angel,
UKHCA
Campaigns & Policy Director, spoke on the challenges facing the care sector. The daytime event closed with an award  being presented for Caremark's Care Worker of the Year, Ian Wood from Caremark (Kirklees).
Caremark's National Operations Manager, Liz Bosley-Sharpe commented: "All our franchisees really engaged with the activities and found the day extremely inspiring."
"The evening celebration was a fantastic show of our network coming together to celebrate not only their success but the success of their colleagues," Bosley-Sharpe concluded.
A Bollywood themed gala dinner followed with guests being entertained to traditional Indian music and dancing, culminating in the Caremark franchise awards ceremony.
An award-winning franchise network
Trophies were awarded for regional achievement, the 'Rising Star' franchisee, The Mark of Excellence in franchise growth and care service, overall achievement and outstanding performance. The two most coveted trophies were Republic of Ireland Franchisee of the Year, John Kelly
(Kildare & West Wicklow)
and the UK Franchisee of the Year,
(Aylesbury & Wycombe)
franchisee Janis Anderson.
The Caremark network continues to produce outstanding business professionals, with one of its youngest, Hannah Drury (25) taking the regional award for London this year and Graham & Karen Precious
(East Riding)
claiming the award for outstanding performance.
With Caremark businesses continuing to build year on year despite the current difficulties in the sector, the company looks set for further success and growth.
BACK TO NEWS