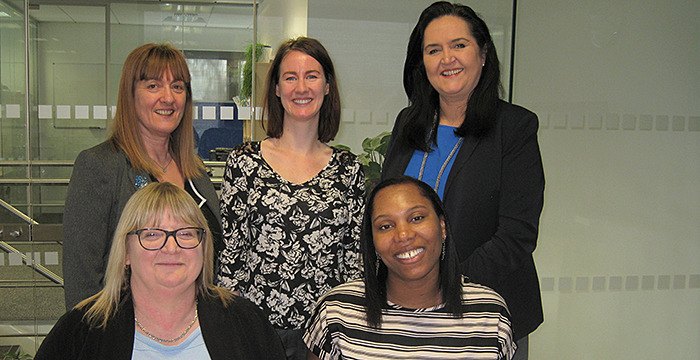 1st May 2018
Ending Q1 on a high with three new franchisees!
With a prestigious national industry award win and a record-breaking conference already in the bag, Caremark are rounding off a successful Q1 of 2018 with the arrival of three new franchisees to the company's ever-expanding network.
Halima Duru, Sareet Shah and Priya Desai will be opening the doors of their brand new offices throughout the UK in Lewisham, East Hertfordshire and Broxbourne. The trio come from very diverse backgrounds but share the desire to make a real difference to people's lives coupled with a dream of business ownership.
"I'm so excited to be a part of such a diverse and ambitious network. We have had so much support from the network already; with franchisees providing us with their experiences and guidance on how to navigate the early stages of the business. You truly cannot buy the mentoring we have already received. We now understand better, that the strength of the Caremark brand is in the network and these values have all disseminated from Kevin Lewis's vision for Caremark," said Priya, after completing her two-week initial franchisee training course at the brand's head office in Worthing.
Both Priya and Sareet went the extra mile prior to training and attended Caremark's annual conference in January. The pair were keen to spend as much time with their soon-to-be colleagues as possible and to soak up the camaraderie, experience and knowledge at the two-day event.
"The conference gave us an extra boost and encouragement for the exciting journey we have all embarked on. The speakers provided us with a great insight in to the industry, the challenges we may face and ways to overcome them. It was fantastic for us to see and hear the impressive work that Caremark and its franchisees have been doing in the last year. We had the opportunity to network with so many fellow business owners from all over the country; all of whom provided us with support we weren't expecting to receive!
"The Caremark network is like a big family, everyone shares the same values for providing the highest standard of care and support; and achieve this in a variety of ways. I'm excited to learn more and succeed in this business, and hope to be in a position where my team and I can provide new franchisees with a similar level of support in the future," enthused Sareet.
With over 100 offices nationwide, and recently ranked in the top three UK care franchises; Caremark has a solid reputation as a leading home-care provider. Franchisees continue to thrive as they passionately support the elderly and the vulnerable in their local communities whilst building substantial businesses with impressive return on investments.
The three new additions to the Caremark franchise family follow the brand's recent win at the national Great British Care Awards.  On Friday 16
th
 March, Simon Rowland, who works for franchisee, Martin Steyn, of Caremark in Tunbridge Wells, won
'
Home Care Registered Manager Award' for his outstanding service, leadership and his contribution to the culture and team values in the business.
Anne O'Rourke, Managing Director of Caremark in the UK, praised Simon for his dedication to the business and its clients and his genuine passion for care:
"Simon is an extraordinary member of an extraordinary team. Through his passion and his commitment, he enables Martin, as business owner, to forge ahead in the market."
As the year's remaining training courses continue to fill up fast, 2018 looks set to see more savvy, compassionate Caremark business owners take their place in the UK's £6 billion home care sector.
BACK TO NEWS