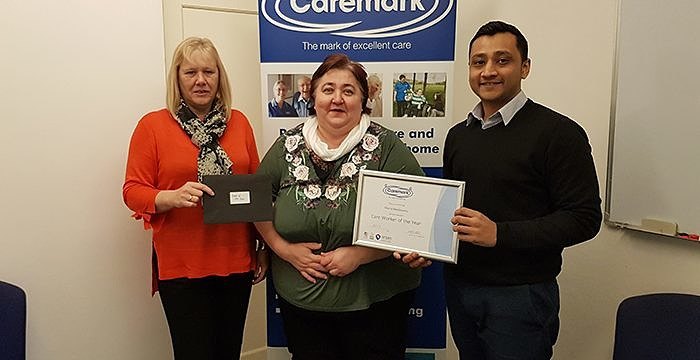 12th March 2018
Caring Maria wins Caremark's top care worker award
"Maria is a brilliant live-in care worker. She has the patience of a saint," says Caremark (Hillingdon)'s Care Manager, Christina McFadden.
Caring Maria Moldovanu won Caremark's top care worker accolade – National Care Worker of the Year award for 2017. The award was presented at a prestigious black-tie gala event held at the De Vere Hotel in Daventry earlier in the year. The owner of the business, Abhay Shah received the award on Maria's behalf as she was unable to attend in person.
Maria's passion for helping others and her naturally caring nature ensured she beat off competition from over 4500 care workers in the Caremark network to clinch Caremark's most coveted prize which recognizes the achievements of its staff. Maria has been working with home care provider Caremark for over two years but prior to this had no care experience, in fact, she worked in a factory. She made the successful leap from menial work to meaningful work and is loving every minute, knowing that what she is doing each day makes a difference to her client.
Maria primarily works with Belinda, a client diagnosed as bi-polar who exhibits challenging behaviour which has led to her being estranged from her family.
Maria explains: "I like working with Belinda because she challenges me. She is a very smart lady. She has lots of books about literature and religion – we have some great conversations!"
Maria works tirelessly to help Belinda manage her condition and rebuild relationships with her family, particularly her sister. Her patience and good care culminated in Belinda being invited to spend Christmas at her sister's house for the first time, with Maria accompanying her for support.
"We had a lovely time," says Maria, "all the family was there. They exchanged gifts and they even got me a gift!
"Belinda enjoyed herself very much and is looking forward to next Christmas already."
Care Manager, Christina added: "Maria has worked hard to help Belinda achieve her desired outcomes. Spending Christmas with her sister and family was a culmination of all the effort Maria and the rest of the team have put in with Belinda. And to win the National Care Worker of the Year award is testament to her hard work and dedication."
Belinda receives bespoke live-in care from Caremark, with one-to-one support which enables her to remain living in her own home. Live-in care is a viable and cost-effective alternative to residential care, with care workers carefully selected to suit each individual client, their needs and interests.
BACK TO NEWS