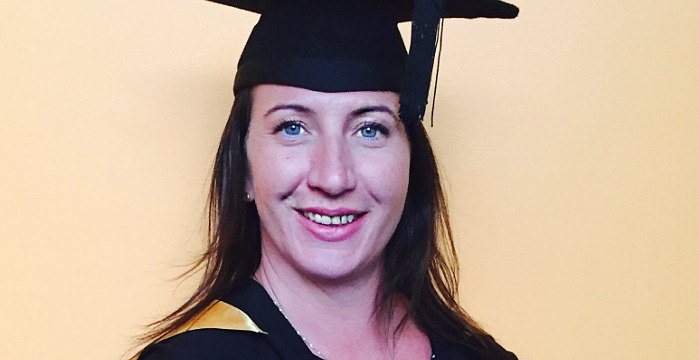 23rd January 2017
Caremark's Caroline completes degree in Dementia Studies
Caremark (Worcester & Malvern Hills)'s Managing Director, Caroline Balmer had reason to celebrate at the beginning of December with her achievement of a degree in Dementia Studies.
Caroline explains why she was moved to undertake a degree course in Dementia: "I have always had a keen interest in Dementia. I have worked in the care sector for over 15 years and during that time I have seen how dementia can affect a person and also their family members.
"On a personal note I have also witnessed the devastating effect it had on my own Nan, who sadly passed away from Alzheimer's Disease."
Caroline's achievement is no mean feat given that she embarked on the two year distance learning degree course when she was still employed.  One year in, she decided she wanted her own home care enterprise and went on to buy a Caremark franchise, launching the new business alongside continuing her studies.
She continues: "I decided to embark on my Dementia degree whilst I was the Registered Manager at a domiciliary care company. I had a good look at all of the options and decided on a distance learning course with Bradford University. This was a two year course and it took into account my previous level 5 qualifications. The mode of study worked well with commitments and the first year was extremely enjoyable."
Caroline added: "Just after I had completed my first year I started my Caremark franchise.  This certainly kept me very busy and it was difficult juggling starting a new business with completing the last year of a degree. However I persevered and completed the course and came away with a good 2:1, narrowly missing a first!"
Caroline bought her Caremark home care business at the end of 2015 and never one to dawdle, by February 2016 was registered with the CQC and soon after her team were delivering personalised care and support to people in her local community.
Her newly acquired knowledge will serve her well, supporting increasing numbers of people with varying types of dementia.
"I now intend to pass on my knowledge and ensure we can deliver a great quality service that specialises in the complex needs of people with dementia", Caroline concluded.
BACK TO NEWS