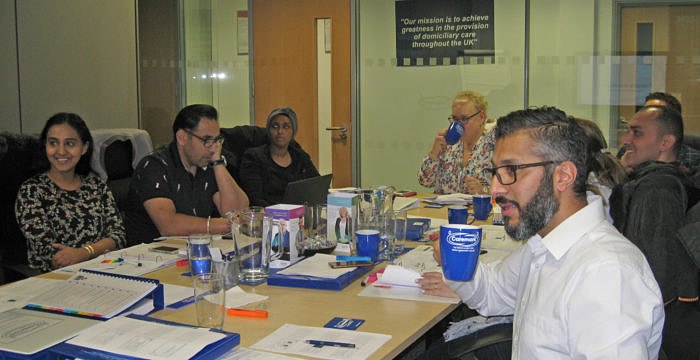 28th November 2018
Caremark welcomes six new franchisees!
Six new franchisees recently completed their initial franchisee training and are now awaiting registration with the Care Quality Commission which will allow them to open their doors and trade.
The new business owners, who have taken territories across the UK, are excited to be part of the growing Caremark network.
We welcome to the network:
Herkesh Malhi  – Caremark (Birmingham South)
Baljit & Jugjeet Bains – Caremark (Havering)
Arshad Farid – Caremark (Calderdale)
Vasilis Koutlakis, Abir Altali who join Ahsan Sajjad  (existing franchisee of Caremark (Dacorum and St. Albans) in taking Caremark (North Herts & Stevenage)
New franchisees undergo comprehensive in-house training at Caremark's head office which gives them a thorough grounding in the care sector, the complex legislation that underpins it and Caremark's model, providing them with a solid foundation from which to start their new business. 
Being back in a classroom environment can be quite challenging for some who may not have undergone any structured learning since University or even school days.  However, Caremark's training is designed to meet all learning styles, so that by the time the students come to sit their end of course exam, they are well equipped to sit the testing 2 hour examination.
"We found the training to be extremely informative and enjoyable," said Baljit Bains.
"Lynda's delivery of the content was excellent.  We have learnt a lot and we are looking forward to applying our new knowledge and training to our business.  As new business owners we are most excited about being able to generate work for our local community and to making a difference to the lives of our local elderly folk," she concluded.
With their initial training completed, franchisees are making good use of the time between now and their CQC registration to market their business and network with their local stakeholders.
BACK TO NEWS