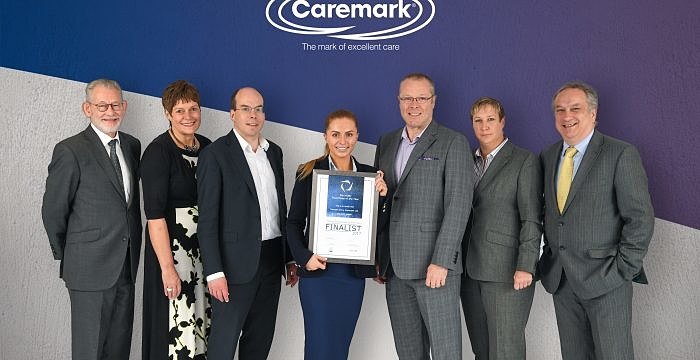 28th April 2017
Caremark (Sutton) franchisee is a bfa awards finalist
Caremark (Sutton) franchisee Hannah Drury, 25, has been selected as a finalist in the prestigious bfa HSBC Young Franchisee of the Year award 2017. The annual franchisee bfa awards showcase the rising stars of business and franchising across all sectors of industry, with categories focusing on innovation, customer focus, female-led franchises as well as young entrepreneurs.
Ms Drury, Operations Director of
Caremark (Sutton),
took over the running of the home care business in the autumn of 2015 when the previous franchisee became critically ill and then subsequently passed away.
Her focus on financial efficiency, excellent quality of care service and great leadership caught the attention of the judges and ensured her a place among the finalists for a prestigious British Franchising Award. Her achievements in 2016 showed steady growth with the achievement of a GOOD rating across all elements from her first inspection by the Care Quality Commission (CQC).
The still-developing business has acquired an enviable reputation for excellence in the local community, providing a compassionate and professional home care service to vulnerable individuals.
An enriching alternative to university
Asked how she felt about being shortlisted for the award Ms Drury said: "I'm thrilled to be shortlisted for this prestigious award. I chose not to go to University, instead starting my career through franchising and combining it with studying for a degree through the Open University.  
"As a young Mum this path has also given me the flexibility to meet my family obligations. Running a business is tough, but hugely rewarding. The buck really stops at me! Working in an industry I really care about – healthcare – really helps.  My business is built on a clear ethos of integrity, excellence and teamwork.  
"At 25 I already have extensive hands-on business experience; I think that this is a brilliant start in life.  I'm hugely ambitious and have clear targets for the future.  I'm also looking to diversify into other areas.  
"It is fantastic to have outside recognition for my progress so far."                                      
Ms Drury is no stranger to success, having already scooped a top award at Caremark's gala awards ceremony in January. She recently completed the second round of judging for the bfa awards where she had to give a short presentation to a panel of judges and then undergo a Q & A session.
We wish her the best of luck!
BACK TO NEWS