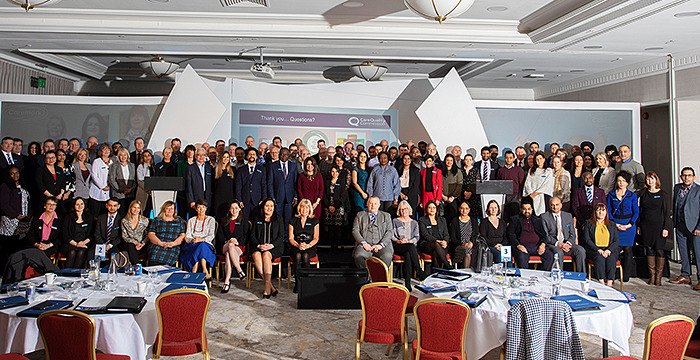 30th January 2019
Caremark reveals revolutionary new care service at franchise conference and awards
A packed auditorium at the 12th annual Caremark conference was held spellbound as a revolutionary new care system was revealed to Caremark's network of franchisees.  With the theme being "Inspiration – taking it to the next level", they were not disappointed.
People from across the franchise network had travelled to the Marriott Forest of Arden Hotel in Warwickshire to enjoy a day full of exciting and inspirational speakers, with the top billing being the launching of Caremark's new home care system.
The brainchild of founder and CEO Kevin Lewis, this revolutionary way of delivering home care called PatchCare®, was trialled in West Sussex during the last 10 months and reported extraordinary results, delivering significant success for both clients and franchisee.
Caremark, the largest privately-owned care franchise in the UK, is now excited to be rolling out the system across the rest of its 100-plus offices. Some of the positive outcomes include:
1. A reduction in 999 calls


2. Major opportunity to reduce the number of care workers on zero-hour contracts and replace with salaried work


3. A social care system which advances the NHS Long-Term Prevention strategy


4. Cost-effective care, delivered with significant indirect cost savings to the Local Authority, the NHS and the service provider.

PatchCare® is a pioneering system which harnesses the positive aspects of both residential care homes and in-home care services. The results are speaking for themselves – the Sussex-based office which piloted the system received an OUTSTANDING rating from the CQC on its first inspection since implementing PatchCare®, placing it in the top 2% of adult social care providers.

The bumper conference day programme included motivational speaker Ellis Watson and speakers from UKHCA, CQC, as well as best practice sessions from franchisees.

After a short break to prepare themselves for the Fire & Ice theme, the glittering gala awards dinner entertained the delegates late into the night.

The 11 winners of 13 awards were recognised as best in class, with positive, forward-thinking attitudes enabling them to build strong teams, maintained a level of growth which set themselves apart from other similar businesses, and providing consistently excellent care.




Sue Hills and Sarah-Louise White are celebrating a fantastic start to 2019, after Caremark Mid Sussex & Crawley took home not one, but two, industry-recognised awards. Sue, Sarah and their team have been crowned as best office in the South-East region and scooped the 'Special Contribution' Award for their work in trialling PatchCare®, seeing off competition from over 100 Caremark offices in the UK.

"These awards are a testament to our incredible team and the hard work they put in every day. This truly was a group effort, and something we're proud to celebrate collectively. By putting our clients' needs at the forefront of our business, we've built a compliant and compassionate culture and we're passionate about maintaining this standard. We speak on behalf of the team when we say that this is just the beginning. Our focus was to build a strong team and provide an impeccable standard of care, right from the get-go. We've achieved all that and more," says Sue.

David Glover, Managing Director of Caremark in the UK, was pleased to honour the client-focused businesses on the night. "It's been incredible to watch our franchisees go from strength to strength and we are very proud to work with such compassionate and professional providers. They're all great examples of all that is right within the care sector." 
BACK TO NEWS