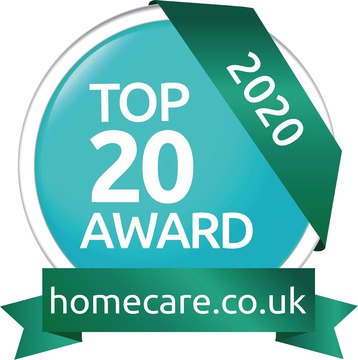 18th June 2020
Caremark franchises rated in the Top 20 home care providers by clients.
Every year, the Homecare.co.uk awards highlight the most recommended in-home care providers, for the sixth year running Caremark offices have featured.
Homecare.co.uk is a directory and the go-to website which allows clients and their families leave a review on the care service they received, helping others choose which care provider is best. Reviews that mention the high standard of service delivered and how happy they are in receiving this care from Caremark themselves or for a loved one.
Congratulations to these offices who have been recognised for the great care they deliver throughout their communities:
• Chiltern & Three Rivers
• Dacorum & St Albans
• Harrow

• Hillingdon

• Plymouth


• Thanet
• Weymouth & West Dorset
You too could be running your own award-winning Caremark Franchise. We will support you every step of the way, by sharing our industry leading knowledge and expertise, helping you to put together an achievable business plan tailored to you and your local area.
Once up and running, you will be in the confident position of being able to manage and develop what should become your very own rewarding Caremark franchise to a tried and tested business model, delivering the high standards for which Caremark has become renowned.
You would obviously need business acumen and stakeholder management experience, but not previous experience in home care, because not only would we assist you through the entire set up but also a dedicated regional support manager is on hand to guide you on your franchise journey and offer assistance whenever you need it. In no time at all you could be owning and running a franchised business in a sector which has remained resilient and thriving, even during the current Coronavirus pandemic and the uncertainty of Brexit.
The Caremark franchise network attracts a wide range of professionals wanting to have a positive impact on people's well-being in their community. If owning a business that improves people's lives appeals to you, contact our us on 01903 266 392 or fill in our
contact form
.
BACK TO NEWS