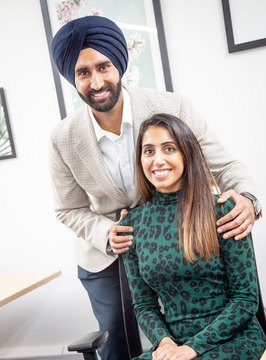 29th October 2021
Caremark franchisees expand into additional territory.
Raspinder Singh, Managing Director at Caremark (Dartford & Gravesham) tells us why he originally chose to invest in a Caremark franchise, but also as to why he and his wife are investing in an additional territory.
Business owners, Raspinder and Gursh are excited to announce that they are expanding into a second territory. This husband-and-wife team already head up the franchised operation in Dartford & Gravesham and now feel the time is right to open the doors to an additional Caremark franchised business, based in neighbouring Medway.
When asked why he originally joined Caremark's franchised network, Raspinder enthused: "I have always had a passion for business and this notion had been on my mind since graduating from university as I knew self-employment would suit me best. Having family and friends in the care sector and having heard horror stories from within the care industry, I knew it was a sector I could make a difference in and earn a good living. After researching and having spoken to several home care franchisors, I felt that Caremark and its philosophy of treating clients as if they were your own parents, very much resonated with me and I therefore decided to join the network and provide care in my hometown of Gravesend and neighbouring town of Dartford."
When speaking of owning and running the business with his wife, Raspinder went on to say: "We knew owning a franchisee came with many benefits and this was realised in our existing business. We are able to focus on providing quality care and delivering an exceptional customer experience, knowing that all the policies and procedures are in place. Also, being part of the network has allowed us to speak with other franchisees and learn from their experiences, it is an excellent support network, and this was invaluable especially as our first care package came from a contact that one of the neighbouring offices provided me with."
Having been employed in the finance industry before starting a Caremark franchise, Raspinder talks of how he became tired of the bureaucracy and lack of flexibility in the workplace and therefore wanted to create a workplace where staff had the freedom to work autonomously and were rewarded for their hard work: "This coupled with building a team that feels like they are part of a family and can support one another, have been key to our success."
So, a few years down the road and the business has grown to a level where they feel the time is right to invest in another territory, where Gursh will be heading up the operation with a newly recruited Care Manager, Kuljit and Field Care Supervisor Abbie, all pictured below.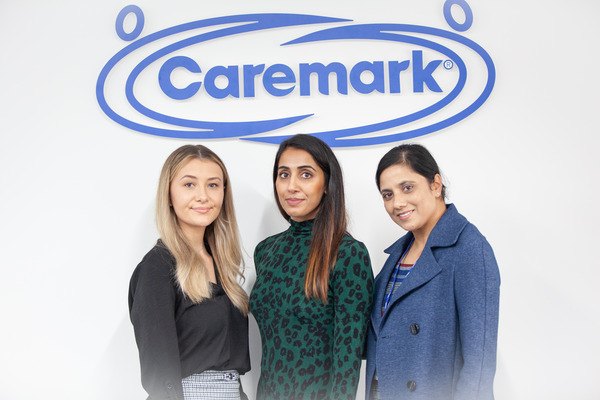 Pictured: from left to right, Field Care Supervisor Abbie, franchisee Gursh and Care Manager Kujit.
Gursh, who came from the Insurance industry, had this to say on opening the new business: "I am extremely proud of what Raspinder has achieved and the amazing work that he and the team have been doing in the community. My family also work in the Care sector in my hometown of Bristol and I have seen how rewarding this can be. Like Raspinder, I was tired of working for a large corporation and knew I had so much more to offer. I have learned an awful lot in my career so far and we knew it was time for me to make a change. Raspinder and I knew that we could achieve so much more together, not just by expanding the business but by continuing to improve the services we provide for our clients. I have always been motivated to make a difference and know this will be an extremely rewarding path."

When expanding on the flexibility a Caremark franchise offers and how they balance their work and free time, Raspinder and Gursh find they have time for family, friends, and their hobbies, which include keeping fit and getting away from time to time.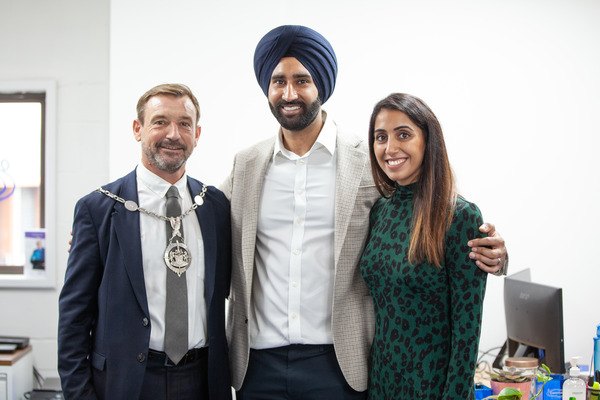 Pictured: Business owners Raspinder and Gursh with the Medway Deputy Mayor Cllr Peter Scollard
Like Raspinder and Gursh, you don't need to come from a care background, as full training is given and ongoing support is provided through a network of Regional Support Managers and a Head Office Support Team. If you have the relevant investment, drive and business acumen then talk to us today on 01903 266392 or
click here
to find out more about joining them as part of the Caremark Network.
BACK TO NEWS