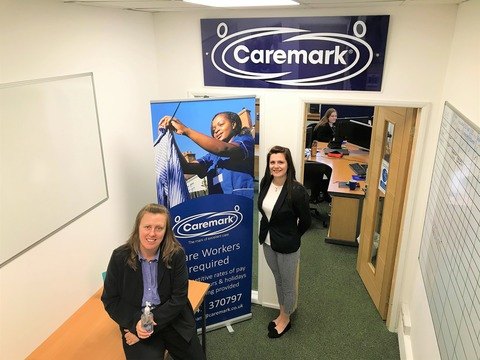 12th January 2021
Caremark (Cheltenham & Tewkesbury) moves to an office twice the size to meet demand.
Michael Folkes started his Caremark franchised in-home Care & Support business in 2017 and in less than four years has grown from a staff team of 12 to 55.
This growth, prompted by increased demand from people who would rather stay in their own home rather than going into residential care, meant the company's original premises at the Cheltenham Film Studios was no longer big enough to accommodate its head office team and their Care & Support Workers, who come in regularly for training. So, the company has now moved to bigger offices at the same location. This has also enabled Caremark to ensure it can offer a Covid-19 secure environment for staff and visitors.
Michael Folkes, Managing Director of Caremark (Cheltenham & Tewkesbury)
said: "We've grown rapidly in the last three years and now provide homecare for people across Gloucester, Cheltenham, Tewkesbury and the surrounding area. As we have grown, we have taken on new staff and we got to the point where our original office no longer met our needs".

He went onto say: "Cheltenham Film Studios is a great location for us, so we're pleased to have been able to remain here, but now in an office which is double the size of the previous one. In particular, we now have a large, spacious training room which will enable us to train staff safely (during the Pandemic social distancing guidelines), as well as continuing to provide e-learning."

Michael added: "We're increasingly seeing more enquiries for our services, either funded through the council or privately. We have been able to provide a very high standard of care whilst observing Government and Public Health England guidelines around Covid-19, and people understandably prefer to stay in their own home, rather than into residential care."

Growth is not unique to Caremark (Cheltenham & Tewkesbury), as our in-home care network as a whole has enjoyed growth of 20% overall in 2020 alone.

If you would like to find out more about investing in a franchise with the potential for this kind of growth, then why not talk to our franchise recruitment team on 01903 266392 or click here for more information.


BACK TO NEWS