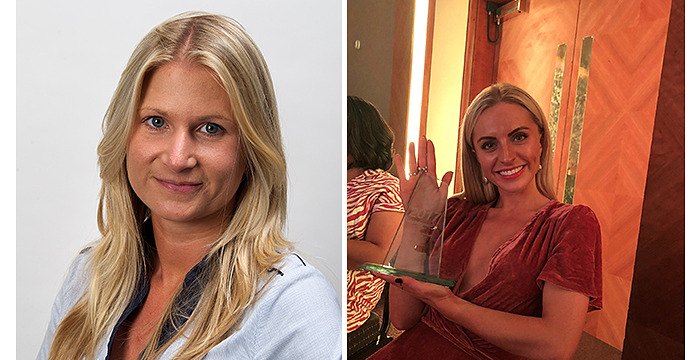 18th April 2018
Caremark celebrate EWIF award trio
What could be better than being shortlisted for a national business award? How about being shortlisted for three! This week, Caremark are celebrating as both franchisee and employee received the news that they have been named finalist's in the 2018 NatWest EWiF awards.
For ten years, EWIF (Encouraging Women into Franchising) has been supporting women in the franchise industry. Sponsored by NatWest, the awards bring together the best women in franchising to recognise and celebrate their successes.
Battling it out amongst a record number of entries, Caremark's Lisa Fyfe and Hannah Drury were both named finalists in three different categories. Both women will be representing the at-home care franchise at EWiF's prestigious awards ceremony in London on May 15
th
.
34-year-old Franchise Director, Lisa Fyfe, was named finalist in 'Best Woman Franchise Employee'. After joining Caremark aged 23 as Financial Controller, she worked her way up through the ranks and now runs an all-female finance department. Chartered Accountant, Lisa, is responsible for the business' financial planning, strategy and budgeting. Including the brand's expansion into Ireland, India and Malta. Along with an impressive career to date, Lisa is much loved and respected by colleagues across the entire Caremark network. She said the news of being a finalist still hasn't quite sunk in!
"I'm in shock! My role brings great learning opportunities which continue to equip me with skills and experience that I try to utilise for the benefit of both our franchisees and the vulnerable people we support. I'm honoured to have been chosen as a finalist –  as a young female Franchise Director working in a male dominated field, I'm always striving for success and I hope to inspire other young professional women to see opportunities rather than barriers in the workplace,"
Hannah Drury, franchisee for Sutton, is no stranger to awards. Over the last 12 months, she's been recognised by the British Franchise Association and a number of regional awarding bodies for her business acumen and success, as well as her commitment to the elderly and vulnerable in her community. At the tender age of just 26, Hannah has been named as a finalist in the 'New Woman Franchisee' and "Young Woman in Franchising' categories.
Anne O'Rourke, Managing Director for Caremark in the UK, says she's incredibly proud and pleased for both women:
"I couldn't be happier for Lisa and Hannah. They both work so hard and are so passionate – not just the care industry – but about franchising too and what a wonderful opportunity it presents for women of all ages. To be acknowledged by EWiF and given the opportunity to share their stories with a wider audience is something I know they will both be incredibly humbled by – the end result almost doesn't matter, as finalists, they're flying the flag for Caremark and for franchising and we couldn't be prouder of them both."
Through regional meetings, a national conference and national awards, EWiF's mission is to encourage women to consider buying a franchise, to encourage business women to franchise their existing operations and to help franchisors attract more women to their networks. For more information about EWiF, visit
www.ewif.org
.
BACK TO NEWS