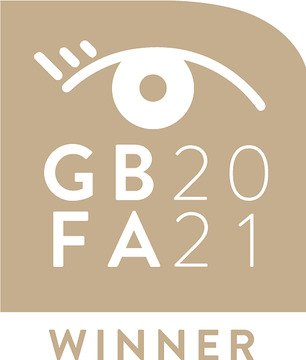 10th November 2021
Care at home franchisees win at awards.
Caremark (West Oxfordshire & Cherwell) were announced as a winner in the inaugural Great British Franchisee Awards 2021.
The Great British Franchisee Awards focuses on the people who have made UK franchising a success. Recognising the outstanding performance of franchisees, regardless of the size of their business or the sector they work in.
Judged by a prestigious judging panel of industry experts, these Caremark franchisees demonstrated what it takes to be Great British Franchisees and here is what winning franchisees John Cascone and Dinah Madelin had to say on the recognition: "It is a fantastic honour to be selected as a winner of the 2021 GBF awards. It is wonderful to receive recognition for all the hard work and effort that the team have put in to providing the highest quality care for all of our clients. We would also like to thank Caremark for all their support in running our business to achieve the best results."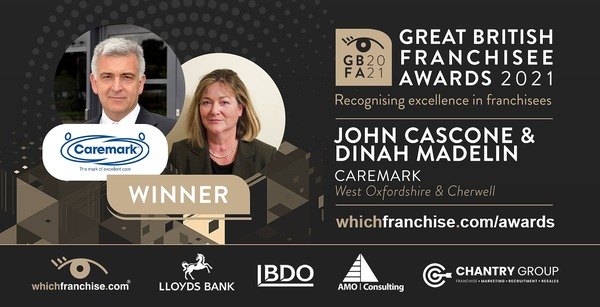 Johnny Sellyn from Which Franchise said: "These are impartial awards with a clear and transparent judging process, focusing on the people who have made UK franchising a success."
These judges Johnny alluded to consist of Suki Dehal - Lloyds Bank, Head of Franchising, Aman Nirwal – BDO, Senior Key Account Manager Franchising, Euan Fraser - AMO Consulting, and Derrick Simpson, Companion of the British Franchise Association.
Derrick Simpson has this to say on the awards: "I feel passionately that the basis of any successful franchise network is the commitment, drive and dedication of their franchisees. The Great British Franchisee Awards recognise those franchisees who excel at combining their passion for the business with commitment to the franchise sector and involvement with their community."
While Aman Niral reflected on the judging process: "I have thoroughly enjoyed reviewing all the applications, it has been so refreshing to see how all sizes of businesses from various sectors have coped and adapted their businesses in response to not only Covid-19 but looking at sustainable growth and business resilience for many years to come."
To find out more about owning and running your own Caremark franchise,
please click here
, or call on 01903 266392.
BACK TO NEWS